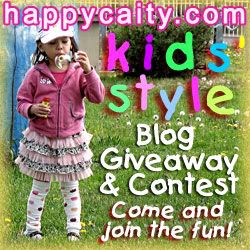 Friends! We've recently launched Kids' Style meme and we're happy with how the response turned out! Now, we're excited to announce its first major Blog Giveaway and Contest as a way of welcoming future participants. We're giving away over $100 worth of prizes to our lucky readers. The contest will run from November 22, 2011 until 12:01 am December 20, 2011 EST. That means you've got almost a month to participate!
We'll be raffling off these awesome prizes from our generous sponsors:
1st prize = $50 Paypal credits
2nd prize = $30 Paypal credits
3rd prize = $20 Paypal credits
4th prize = 1 month ad space @ The Jagged Barn
5th prize = 1 month ad link @ Ideas n Pink
HOW TO JOIN:
*Participants should have a Paypal account, a blog, Facebook account, Twitter, and GFC to be able to join the contest.
*Participants should blog about the giveaway. The blog post should contain the link to Happycaity.com (http://www.happycaity.com), the contest badge code and the sponsors' links code. For easy posting, the codes for the badge and sponsors' links can be copied below.
Rainydazeee
Happy Steps Travel Blog
Pastel Corner
The Wonderlusts
Benedique
Doodles
My Tots Exactly
The Coffee Chic
Nshima Servings
The Jagged Barn
Mommy's Bright Bundles
Essential Tidbits
Ideas n Pink

Copy the code below for the badge:


*Contestants should complete the rest of the Mandatory Tasks which can easily be done by clicking on the Rafflecopter buttons below, and automatically gives them a total of 15 entries.
*Optional Tasks (If you want to have more chances of winning!):
1. Tweet About the Giveaway which will earn you 1 entry per day.
2. Post the contest badge on your blog's sidebar for 3 entries.
*Please leave your blog post URL, Facebook name, Twitter name and GFC name in the comment below this contest post to make it easier for us to check/verify your entries.
Don't dilly-dally! Join now!
*Sponsors are not allowed to join the contest. Sorry pretty ladies! (: